Departarture: Puerto Colón. Pontoon 1.
Lunch included in 4,5h and 3h excursions.
Included: Drinks on board. Menu in 4.5 hrs excursion: Potato salad, vegetables, meatballs. Free transfer from the South of Tenerife.
Free transport from the area of Costas Adeje to Los Cristianos.
Transport from Médano, Golf, Paraíso and Los Gigantes:
3-hours excursion on Wednesdays.
4.5-hour excursion on Mondays, Tuesdays, Thursdays and Saturdays.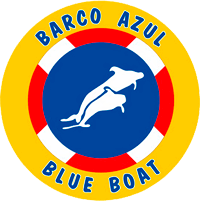 Certifications: Blue Flag
This ship has a Blue Flag. The observation of cetaceans is currently an exceptionally important tourist activity and generally represents, for the majority of people who undergo this experience, their first contact with marine mammals. In the Canary Islands, the observation of cetaceans for tourist purposes is regulated by Decree 178/2000 of 6 September 2000.