Departures:
Puerto de Los Gigantes.
Maximum capacity:
91 passengers
Departures times:
3 hour excursion - Departure at 11:30 am every day and on Thursdays at 2:30 pm.
2 hour excursion - Departure 2:30 pm every day except Thursdays.
Note:
- Compliance with all anti-COVID-19 regulations. It is mandatory for all clients to wear their mask on the bus.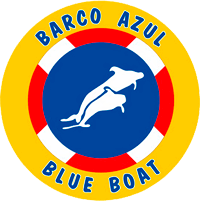 Certifications: Blue Flag.
This Boat has a Blue Flag. The observation of cetaceans is currently a tourist activity of exceptional importance and generally represents, for most of the people who undergo this experience, their first contact with marine mammals. In the Canary Islands, the observation of cetaceans for tourist purposes is regulated in Decree 178/2000, of September 6th.