Departure: Puerto Colón. Dock 6.
Maximum 11 people in private Charter.
Maximum 9 people on regular excursions.
A minimum of 6 people is required to take place the excursion.
Children under 18 must be accompanied by an adult.
Included: sandwiches, fresh fruit and drinks (beer, water and soft drinks).
Schedule:
Mondays, Tuesdays, Wednesdays, Saturdays and Sundays:
3-hour excursion at 10.15h
3-hour excursion at 13.30h

Thursdays:
6-hour excursion at 10:15h
Prevention measures Covid-19: The recommendations of the Ministry of Health and the Government of the Canary Islands will be applied.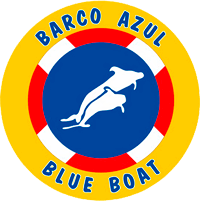 Certifications: Blue Flag
This ship has a Blue Flag. The observation of cetaceans is currently an exceptionally important tourist activity and generally represents, for the majority of people who undergo this experience, their first contact with marine mammals. In the Canary Islands, the observation of cetaceans for tourist purposes is regulated by Decree 178/2000 of 6 September 2000.